Miningers Mission Moments
May 2022 Newsletter
Congratulations!
            Our dear friend, Pastor Johanna and her husband Atte just returned to Helsinki Finland.  They were here to celebrate her graduation from Advantage College. She was the first from her country to complete the course of study for her Bachelor of Theology Degree. Both Johanna and Atte are further enrolled at Advantage College to earn their master's degree. After the graduation ceremony, a dinner party was held in their honor. They are potential candidates for Directors of Ministry for the Scandinavian countries. In August of this year, we are planning their ordination in a special "Step Up To Your Calling" conference in Helsinki. The dates are Aug. 26-27, 2022. More information will be coming shortly.
Our Ministry is Ongoing
            This morning, Deb and I preached to seven of our churches in Ukraine. We were asked to encourage the leadership by the Founding Pastor Valentina. Some of the churches were ones that we helped plant 20 and 25 years ago. One church in Shepatovka reported that their city was hit the night before with 3 Cruise Missiles. The damage and death were devastating. A word from a friend with encouragement by the Spirit was very welcome. This form of ministry is ongoing for Deborah and Larry.
A Victory Report
            Because of your generous and caring heart, Lamp Lighters Intl. Ministries have been able to give $6,000 dollars to help with Ukrainian aid. Our gifts are usually designated to leaders who were saved 25 years ago under our ministry. Our relief targets regions of Ukraine that does not normally attract any help from popular aid sources. Our people are proven. They are turning their churches into shelters and renting 2 or 3 additional buildings for that purpose. They give out food, rest, medical aid, clothing, and the gospel. They are providing services where the refugees are most overwhelmed. For example, many of their countrymen have fled bombed out homes where their documents and money were destroyed in the war zone.  We have teams on the ground that are assisting with all these immediate concerns.
Several of the pastors have been favored by the Ukrainian government to obtain special Humanitarian Aid credentials. They are moving thousands of people through their city to assist them in getting to the nearest border of safety. They have special prayer meetings to ask the Lord for help in knowing which refugees need an extra witness and prayer for comfort and salvation. Many are coming to Christ. This is harvest time. Receiving humanitarian aid can be very humbling because people are so helpless. But the harvest is being gathered. Your gift of relief is opening the door for many who need Christ. Thank you for making such help possible. Below is a report from Zhenya Matsutsa, our man on the ground.
The  photo is one of many of the children who were able to receive new shoes. They had to flee their home with only the clothes on their back.
Thank you Zhenya for your 3 Shelters you have set up to help these families.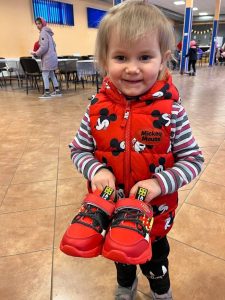 Are you seeking a reliable means to send help to Ukraine?
            We hope you will take advantage of this opportunity to help care for many who are fleeing the country. Remember, many are aged and wounded. They are unable to escape without help. Please do your best to send a gift of any size to:
LLIM
28 Saul Ave.,
Greenville, PA 16125
or go to LLIM.org and click on "Ukraine." There will be one field where you donate to "Ukraine." One hundred percent will go out to those in need. Thank you for your life saving gift.